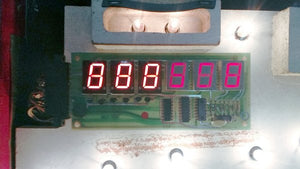 Game Plan LED Displays with New Brighter Digits
Regular price $159.00 Sale
Wait until you see this.. we have the right LED digit to replace the old lackluster ones that came with your Game Plan machine. The picture above was difficult to get right, but the difference is remarkable. You will send us your 4 score and 1 ball/credit display (priority mail for a tracking). We will remove and replace all of the digits with brand new Red or Orange digits (let us know which ones you prefer). The new ones are significantly brighter and crisper than the factory ones. Your new displays will be back to you within 10 days. We will send them back by priority mail.
Details.. if a display(s) do not work due to faulty circuitry, they will come back still not working. Also, please do not send us displays where the PC boards are damaged or traces peeling/missing. We are not bringing back displays from the dead, we are changing the digits for awesome ones.
Simple.. you mail us the 5 PC boards. We change the displays. We send them back to you. You plug them in. No other changes or mods are required.