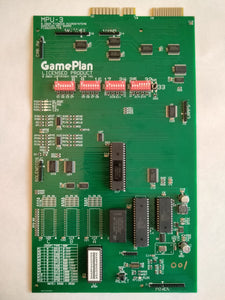 Game Plan MPU circuit board with EPROM ready to go with warranty
Regular price $179.99 Sale
That old Game Plan machine was great.. until battery acid parked it in the garage.
Well, you can now get it back out.. this MPU board replaces the original, with some added features.
There are 5 status LEDs.
There is built in non-volatile memory.
There is a 5V power converter built into the board, preventing false resets.
The board comes ready to install with instructions.
It is shipped with one combined EPROM for your game.
You also get a 90 day warranty, where the board will be repaired or replaced.
This product is licensed by Game Plan, inc.
Games that work with this circuit board (please choose one when you buy);
All games that use MPU-1 and MPU-2,
Sharpshooter
Sharpshooter II
Lady Sharpshooter
Agents 777
Andromeda
Atilla the Hun
Cocktail tables
Coney Island!
Captain Hook
Cyclopes
Lizard
Mike Bossy
Global Warfare
Star Trip
Family Fun
Super Nova
Vegas
Foxy Lady
 Keri wrote back with a great message..
"Thank you so much!!! The new MPU fixed most of our lamp and switch problems and then I was able to fix the the rest of the lamp problems by replacing bulbs, sockets and and a transistor on the lamp board so now Sharpshooter is working 100% for the first time in decades! The family is so happy as the machine was a family heirloom. Can't thank you enough.
Keri"