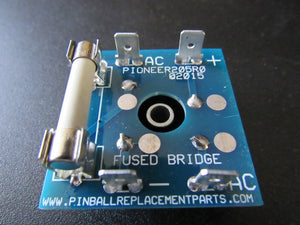 Fused Bridge Module Replaces Troublesome Williams Pinball Rectifier in Backbox
Regular price $11.00 Sale
On Williams pinball machines from System 3 through System 11, you will find one or two bridge rectifiers in the back of the backbox, under the power supply. They may seem harmless, but the issue is that when the old bridge rectifier fails, there is no fuse between the transformer and bridge.. and it is possible, and has been know to catch the game on fire.
This new part is ready to go.. remove the old part, use the same screw to hold down the new part, and move the 4 Faston wires from the old part to the new board. Be careful to get the 4 wires in the right positions.. keeping the manual handy is wise.

The bridge rectifier and fuse are provided.. all you do is remove the old and install the new. Peace of mind in only 5 minutes.

If your bridge has the Fastons soldered to it, you will have to clip off the wires and crimp a fresh new 1/4" Faston onto it. Be careful to do this one wire at a time, keeping track of which wires go where.

The two AC wires can be swapped, but a swap of an AC with + or - or a swap of + and - would cause damage, so take care to get the wires placed correctly.